Nyack Wide Plank has a great selection of wide plank floors from custom milled reclaimed floors to Live Sawn Oak floors that are sold in longer lengths and wider widths to give your home that special touch that we feel is so important.
Our floors are offered in either solid or engineered and can come unfinished or prefinished depending on the specific needs of your project.
We will help you determine the best floor for your specific project and application.
Antique Heart Pine
Remilled Antique Oak
Antique Distressed Oak
Available in Quarter sawn, Select, Character and Naily Grade. Our Antique Heart Pine Floors are most often recovered from old factories or mills. Our select grade is a true gem with very rare knots or nail holes. It is generally used in a formal setting. Character grade will have knots and some nail holes and checking. It's range of color adds dramatic warmth to any setting. Our naily grade is just that and offers a very rustic feel while and a sense of timelessness. Quarter Sawn boards are also available.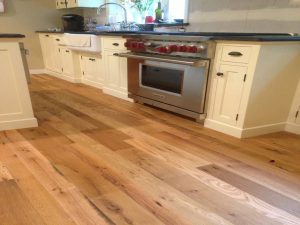 Known for it's strength and durability, these warm browns to occasional reddish undertones will create a timeless, dramatic effect to any home, restaurant, or office. Our Oak floors are re-sawn from hand selected beams.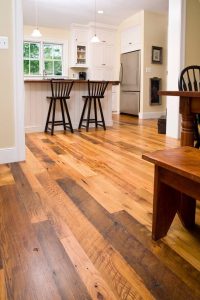 More on the rustic side, but looks incredible in any setting, this reclaimed floor is milled out of barn beams, It often has a weathered look and makes for a warm charming setting!
Antique Distressed Chestnut
Antique Eastern White Pine
Rustic Cherry
This extinct, precious material won't be around forever! This rare wood with a past deeply rooted in early Americana can only be recovered from old buildings, barns and farmhouses. Colors can range from a dark chocolate to as light as a latte. This Cadillac of flooring will have some worm holes knots and nail holes adding to an unparalleled look and feel.
This gem was used typically milled with square edges and was considered the traditional, old fashioned wide plank flooring. It has a tight grain and a glowing amber color. It is generally softer than other antique woods but allows for beautiful wear and tear character. This creates the traditional look that is often sought after.
Our Cherry has warm reddish brown appearance that darkens considerably over time and with exposure to light.
Character White Oak
Reclaimed Walnut
Hickory
Our Character Oak floors offer a wonderful alternative to a reclaimed floor. Warm color's, long lengths and some natural character make for a beautiful and economical floor.
A favorite for it's rich, dark tone's; Walnut is an excellent choice for a distinctive hardwood floor.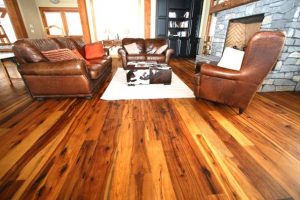 One of natures hardest woods it rivals even steel. This wood ranges in color from cream to warm medium brown.